Revamp Your Warehouse
for Peak Performance
Optimize your warehouse space for maximum efficiency and storage capacity with our free design services. NorthWest Handling Systems offers expert warehouse design assessments, helping you enhance maneuverability, operability, and storage capabilities.
Free Design Services
Experience the potential of your warehouse with our free design services. Many customers have unlocked 100% of their storage capacity through our solutions. Share your current layout, and we'll provide a conceptual drawing highlighting opportunities for improved efficiency, increased pallet storage, and enhanced maneuverability and safety. 
Unlock Valuable Storage Space
When your warehouse space runs out, avoid costly options like building or leasing a new warehouse. Optimize storage density with a proper layout. Our assessments have doubled storage capacity for many customers, freeing up significant unused space while providing a budget-friendly solution.
Maximize Space with Innovative Solutions
Our engineers offer smart, multi-directional technology. Experience easy direction changes, seamless navigation through narrow aisles, and obstacle-free operations.
Custom-Tailored Solutions for Space Optimization
Optimize your storage facility and warehouse to free up space, improve efficiency, and save money. Provide us with facility information and layout, and we'll tailor solutions to optimize your space. Get started now!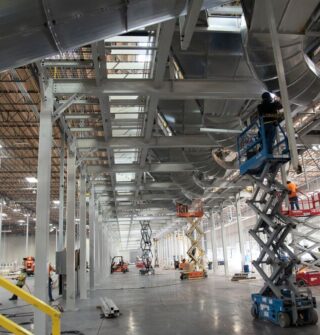 The NorthWest Handling Systems team helped us navigate every aspect of our warehouse build, from concept and design to delivery and installation. What's more, the team provides ongoing service support and is an essential part of our operation.
NWHS Customer
Get in Touch
For High-Quality Warehouse Design
Contact Us