Manual Pallet Jacks
Crown offers the perfect addition to your operation with the manually operated PTH hand pallet jack. The PTH is the smart choice for pallet transport that pulls its own weight every day — and for years to come. Because our manual pallet jacks are Crown-designed and manufactured, you can rely on their heavy-gauge steel design and solid construction to deliver long-lasting value that's always in step with your demands.
At NorthWest Handling Systems, we offer the option to purchase new or used manual pallet jacks. You can also choose to rent any product from our lines. Once you find the product that best fits your needs, request a quote from us and one of our representatives will be in touch.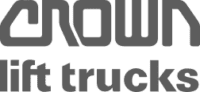 Features & Benefits
Designed for Ease of Use
The Crown pallet jack is designed with simplicity in mind. Our PTHs are easy to service, with parts made to last.
Effective Functionality
The PTH series allows operators to load and unload material comfortably and optimally. From the wheels to the forks, the PTH is an indispensable tool for any warehouse.